QSXM
i.MX 8M Mini QFN Style Solder-Down Computer On Module

Our new QSXM Series is a QFN Style Solder-Down Computer On Module. The module with a small square size of 29mm and a height of 2.6mm is single-sided assembled. Its QFN type lead style has a 1mm pitch with 108 pads. The ground pad additionally acts as thermal pad.
Since industrial applications lead to faster, higher integrated and lower power electronic circuits with a smaller formfactor, the PCB layout becomes more and more important. With a good layout many EMI problems can be minimized to meet the required specifications. It's not only the pinout which should lead to an easy wiring without the need for crossings. It has also to provide a proper solution for the signal path back to the module. If this return path, mostly the ground plane, cannot be connected near the signal pin, the return current has to take another way and this may result in a loop area.
Large ground pad on the bottom side makes a defined ground plane connection available for all signals.
The pinout leads to an easy wiring without crossing.
Ground will be connected near the signal pin to avoid loop areas.
High speed signals can be routed on the top layer at a defined impedance.
Ground pad holds the component at a defined height during soldering.
Features

NXP i.MX 8M Mini Quad Cortex - A53 up to 1,6 GHz / Cortex -M4 up to 400 MHz
2GB LPDDR4 RAM
4GB eMMC ROM
Display support:

1x MIPI DSI (4-lane) display interface
i.GC328 2D GPU
GC NanoUltra 3D GPU
1080p60 Video de-/emcode

Connectivity:


1x MIPI CSI (4-lane)
1x Gb Ethernet
2x USB 2.0
1x eMMC/SD
4x UART
PCIe Gen 2 (1 lane)
3x I²C
2x SPI
4x PWM
SAI
Up to 60x 3.3V General Purpose I/O

-25 °C to 85 °C
29 mm x 29 mm x 2.6 mm

Software Support
Pictures
Order Codes

QSXM-MM60

NXP i.MX 8M Mini 1,6GHz
2 GB LPDDR4 RAM
4 GB eMMC
Display-IF MIPI
Dimensions 29mm x 29mm x 2.6mm
-25°C...+85°C
Benefit by using QS module family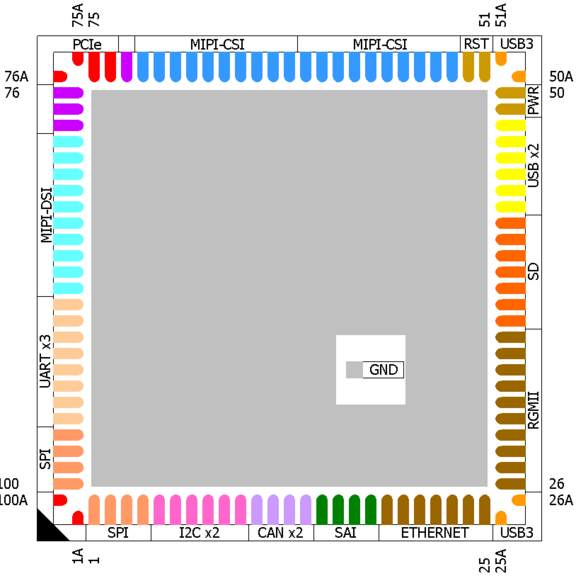 With only 29mm x 29mm the QSXM module family has very compact dimensions. They include a complete embedded System on Module with processor, PMIC, RAM and flash memory.
Because of the very dense packaging on the top side, there are no components on the bottom side of the module, cut-outs on the base board are not required. The pin compatible family concept provides all important interfaces needed for embedded designs, e.g. USB, Gigabit-Ethernet, display and many serial interfaces.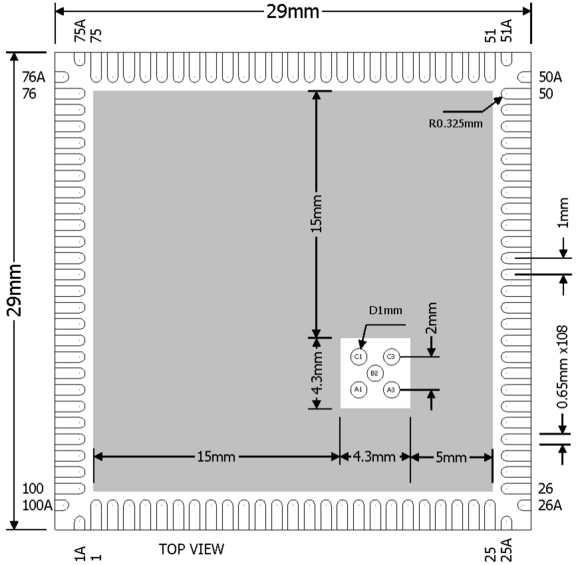 All signal connections are located at the module edges, allowing easy optical inspection during production.
The modules can be assembled by automatic pick & place machines without any mechanical assembly work necessary.
The pin-optimized QS concept enables the use of a simple, cost-effective 2-layer base board.
To support a quick evaluation and project start, a starter kit, with included schematics and bill of materials, is available.
Flexibility, high performance and easy integration
Target Markets
Embedded computing power is very much in demand in a growing number of multimedia-centric devices. The Ka-Ro QS8M is ideally suited for target markets requiring high-end devices for powerful images and impressive video streaming creating connected devices in the following vertical markets.
Automation
Medical technology
Industrial control
Digital signage
Transportation
Processor features
By combining the power-efficient processing capabilities of the ARM Cortex-A53 architecture with bleedingedge 3D and 2D graphics, the i.MX 8M Mini/Nano provides a new level of multimedia performance to enable an unbounded next-generation user experience.
i.MX 8M Mini QFN Style Solder-Down Computer On Module