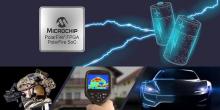 ARIES Embedded is proud to be present at the following event by Arrow:
Protect your future: Migrate your legacy FPGA designs to Microchip
Microchip FPGAs are an excellent choice, providing low power, instant-on, SEU immunity and security (both design and data security), with at least 20 years of product family availability. Migrating FPGA designs can be challenging.
With attendance to this seminar you will be able to:
Rapidly assess FPGA power consumption over a wide range of ambient temperatures
Convert example design to Microchip
Automate design conversion using Python
Apply constraints for placement and timing
Implement clocks & resets
Handle IP components
Test & debug
Agenda

 
08:45-09:15
Registration and coffee
09:15-09:30
Welcome
09:30-10:00
Device and architecture overview - low power, instant-on, SEU immunity and security 
10:00-10:45
Libero SoC FPGA Design flow
10:45-11:00
Coffee break
11:00-12:00

Migration Theory - Estimating power, Timing Constraints, Clocks, IP.

12:00-13:00
Lunch
13:00-15:30
Hands-on Workshop
  o C

omplimentary

 SMF2000 eval board  
15:30-16:00
Q&A
16:00
Close
Pre-requisites:
  o Laptop with Libero SoC and free Silver license
  o Python installed
  o USB Micro cable for programming SMF2000
  o SMF2000 will be provided by Arrow at the event
This event is for design engineers challenged with both migrating FPGAs and managing power consumption. The theory and practice of design migration will be covered, providing you with the tools and techniques you need to succeed.
Date: September 27th, 2022  
Time: 08:45 - 16:00
Location: Arrow Central Europe GmbH, Frankfurter Str. 211, 63263 Neu-Isenburg
Conference Room: Neu-Isenburg