Special Offering M100PFEVP & FlashPro5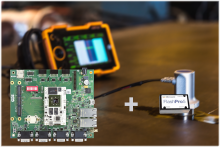 Start your Data Acquisition Application today !
ARIES Embedded offers a special bundle for a quick start-up of FPGA projects and a fast-prototype platform  - We combine the well-proven M100PFEVK-1ACI PolarFire FPGA evaluation platform with the FlashPro5 programmer for only 499 Euros (net, errors excepted) until May 31, 2021.
M100PF offers the full flexibility of the PolarFire FPGA family by @Microchip Technology. The cost-optimized PolarFire FPGAs deliver the lowest power at mid-range densities with 12.7 Gbps SerDes transceivers as well as best-in-class security and reliability. They offer unprecedented capabilities and value with 10G transceivers, advanced I/Os, security and DSP capabilities while maintaining all the advantages traditionally associated with non-volatile FPGAs such as static power, security and single event upset (SEU) immunity. The devices are ideal for a wide range of applications within wireline access networks and cellular infrastructure, defense and commercial aviation markets, as well as industrial automation and IoT Markets.
FlashPro5 is the programmer, which along with Windows, supports many Linux platforms in conjunction with FlashPro Express software. It supports all FPGA devices in PolarFire, SmartFusion2, IGLOO2, RTG4, SmartFusion, Fusion, IGLOO, ProASIC3 and RT ProASIC3 series.
More information on the products is available on the product pages of M100PFEVP and FlashPro5.
To order the bundle please contact ARIES Embedded for more information.